Forget about the classic training dog collars, the revolution between training collar starts with D. T. Systems. The collection of training collars R. A. P. T. 1400 comes with a patented transmitter. The D.T. Systems R.A.P.T. 1450 features a unique "hands-free" design remote transmitter with patented "Suregrip" strap that securely holds the transmitter in place, freeing up your hands for other activities. Thanks to "RAPID ACCESS" button you have total control for instantaneous correction of your dog. You can set this button to short (half-second stimulation) and long pulse (up to 8 seconds) or vibration only. The device offers vibration, 16 levels of pulse, beeper, booster and range up to 1200 meters. By buying extra receivers, you can train 3 dogs at the same time by using one transmitter. The device activated by the magnet.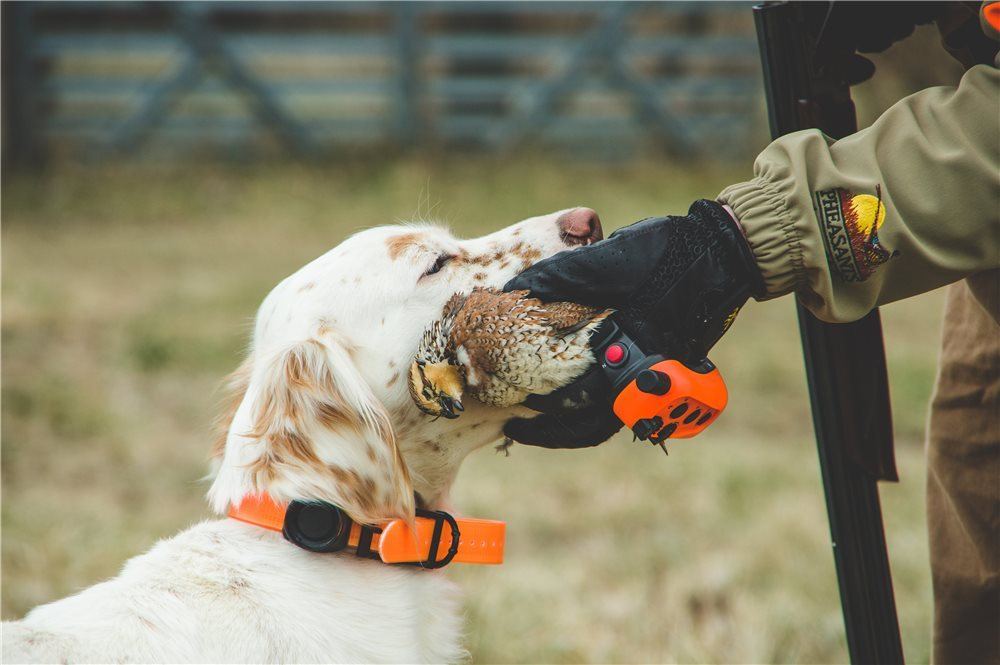 In addition, the training collar R. A. P. T. 1450 includes a receiver with beeper (locator), which is audible up to 1200 meters. The ability to set the sound locator for each dog separately. The transmitter has a separate button for each function. Training collar D. T. Systems are suitable for small, medium and large dogs. Give freedom not only to your dog but also to your hands.

Range:

D.T. Systems R. A.P. T. 1450 will help you to train your dog without using a leash at a distance of up to 1200 meters. The range of 1200 meters is suitable for basic and professional training of hunting dogs

Correction Type:
The D. T. Systems R. A. P. T. 1450 has the ability to use vibration and 16 levels of electrostatic pulse. You can easily customize the collar for your dog. You can increase or decrease the pulse power at any time using the buttons on the transmitter. The Booster button allows you to immediate increase  in the level of the pulse that you set yourself (for example, to level 10), this function must be used only when you need a quick reaction and a stronger pulse - for example, when a dog runs out on the road between cars.

Battery and charging:
The transmitter is equipped with a 9 V battery that can last up to 6 months (with standard use). The receiver is equipped with a rechargeable NiMH battery. With standard use the receiver will work for about a week or even more. With frequent use, 1-3 days. The led indicator on the collar shows the battery status of device.
Waterproof:

The transmitter is waterproof, does not mind rain, snow or short-term immersion in water. The transmitter floats on the surface. The receiver is also waterproof. It doesn't mind rain, snow or a short-term immersion in the water.
Number of dogs:

D. T. Systems R. A. P. T. 1450 can be used for simultaneous management of several dogs without loss of functions. By buying extra receivers you can simply expand it for training up to 3 dogs at the same time. On the transmitter you can use button to switch between dogs.

Collar lenght:

D. T. Systems R. A. P. T. 1450 has a very strong and high-quality plastic collar. The length of the collar is adjustable from 20 to 56 cm.

Weight and dimensions:

The transmitter is 5.4 cm wide, 11.5 cm high (with antenna), and weighs 108 grams (battery and antenna are included). The receiver is 6.6 cm wide, 3.8 cm high and 1.9 cm deep, and its weight is 133 grams (battery included).