The Dogtra 2602T&B is a training collar with a range of up to 1,500 meters for field training and working or hunting dogs. The Dogtra has sound and short or long pulse functions that are adjustable up to 127 levels. The training collar with 127 levels of electrostatic pulse strength adjustment is a highly adaptable solution and corrections are easily tailored to the temperament and size of the dog. You can use the Dogtra Dogtra 2500T&B collar for medium and large dog breeds without any problems. It is recommended for dogs weighing between 15 and 90kg. 
The long pulse serves as a contingency solution for crisis situations when the dog acts in affect and does not respond to normally sufficient signals. The Long Pulse allows you to send a sufficiently forceful warning by prolonging the pulse for the duration of the button press.  Both the transmitter and receiver are waterproof, making them suitable for use in the field. The transmitter has a backlit LCD display that shows the exact level of stimulation, the selected mode and battery level.
Main functions:
Waterproof remote control (transmitter) and collar (receiver)
Precise adjustment of stimulation levels (0 - 127) without jumps between levels
Fast-charging lithium polymer battery with a charging time of 2 hours
Clear LCD display with blue backlight shows exact stimulation level, mode and battery status
Short and long stimulation
3 modes of operation of the sound collar: "Localization", "Running/Exhibiting", "Exhibiting only"
More than 8000 different identification codes to prevent signal matching with other electronic collars
Range of 1500 meters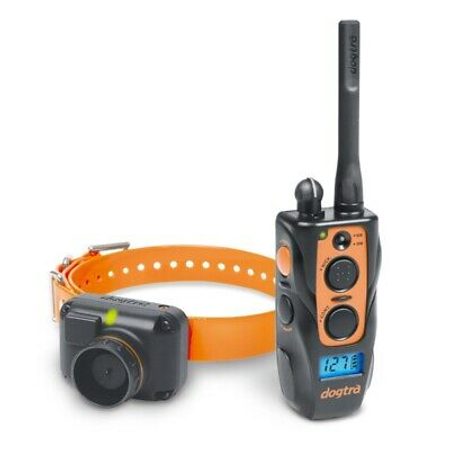 Range of the collar
The Dogtra 2602 T&B helps you train your dog without using a leash up to 1500 meters. This makes it the ideal choice for training basic commands such as come to me, come to my leg, stay, etc. or for recall, call or long distance training.

Type of correction 
Dogtra 2602 T&B uses sound and el. pulse (short or long), which can be adjusted in 127 levels. The alert to the dog can thus be really extremely gentle. Simply tailor the collar specifically for your dog. You can increase or decrease the strength of the pulse at any time using the wheel on the transmitter.

Batteries and charging
Both the transmitter and receiver of the Dogtra 2602 T&B are equipped with a fast-charging lithium polymer battery with a charging time of 2 hours. Both the transmitter and the collar itself have an operating life of around 3 to 7 days.
Waterproofing 

The Dogtra 2602 T&B comes with a fully waterproof receiver and transmitter. 
Number of dogs
Dogtra 2602 T&B is a set for 2 dogs. By purchasing an additional receiver, training can be extended for 3 or 4 dogs.

The Dogtra 2602 T&B has a high quality LCD display with blue backlighting that allows you to train your dog both day and night. The display shows you the strength of the pulse, the selected mode and an indicator of the battery charge and discharge status.

Collar length

Dogtra 2602 T&B has a very strong and high quality plastic collar. It does not give your pooch a problem wearing it and holds well on his neck. The length of the collar is adjustable up to a length of 75 cm.

Weight and dimensions
The transmitter is 4.6 cm wide, 13.8 cm high, 4.3 cm deep and weighs 197 grams (including antenna and battery). The receiver is 4,6 cm wide, 6,8 cm high, 3,1 cm deep and weighs 202 grams.
Package content:
Transmitter
Receiver
Dual charger
Test lamp
Belt clip
Carrying case
Instructions