The Patpet T150 is a training collar with a range of 500 m and such functions as - sound, pulse and vibration. The pulse and sound can be set in 5 levels. The device is rechargeable using a USB cable. Thanks to it waterproof characteristics, the device is possible to use in rain and snow weather, but immersion in water is not possible. The convenient walkie-talkie has a backlit LCD display, easy operation and separate buttons for each function. By purchasing an additional collar with a receiver, you can train up to 2 dogs at the same time by using one transmitter.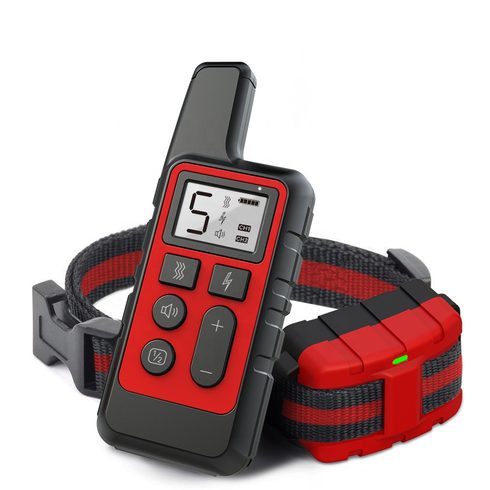 Correction type:

The Patpet T150 training collar offers 3 types of correction - sound, vibration and pulse, that can be adjusted. The intensity levels for vibration and pulse can be adjustable in 5 levels.

Range:
With the Patpet T150 collar, you can train your dog at a distance up to 500 meters. The range of action is suitable for both basic and professional training of most dogs. Patpet is an ideal choice for use in the city.

Battery and charging:

The transmitter and receiver have a rechargeable Li-ion battery with a capacity of up to 650mAh. Additionally, the device is equipped with QuickCharge technology, thanks to which the device is charged in just 2 hours.

Number of dogs:
By purchasing an additional collar with a receiver, you can train up to 2 dogs at the same time. You can simply switch between dogs using the button on the transmitter. 

Display:
Thank to high-quality backlit LCD display, the device is suitable for training at night. The indicators on display shows the selected function, correction power, battery status and the selected dog. 

Waterproof:
The Patpet T150 dog collar is waterproof with just IPX6 protection marking. The device can be used during rain or snow, but it is not possible to stay in the water for a long time. Thus, the collar is an ideal choice for basic use, but not for training dogs in water.

Collar length:

The maximum length is 75 cm. If necessary, the collar can be easily shortened.

Weight and dimensions:

Transmitter: width-4.5 cm; height-12 cm; depth-2 cm, weight-55 grams. Receiver: width-3.5 cm; height-5.5 cm; depth-2.5 cm, weight-45 grams.