Patpet T720 is a training collar with a range of 1000 m for all breeds from 5 kg to 90 kg. It is a suitable training assistant for home and professional training. The Patpet electronic collar has the functions of light, sound, vibration and pulse in 100 levels of intensity. Additionally, the Patpet T720 has an anti-barking mode - a great solution for against unwanted barking, if necessary, the function can be simply turned off and used as needed. The LED light function can be used for night walks when you see your pet even in the dark. Training can be extended for up to 3 dogs at a time and controlled by using a single transmitter. The transmitter has a separate button for each function. Patpet T720 is waterproof so you can use it in the rain, but, longer stay in the water and diving is not possible. The transmitter and receiver are equipped with rechargeable and replaceable Lithium-Ion battery with great battery life.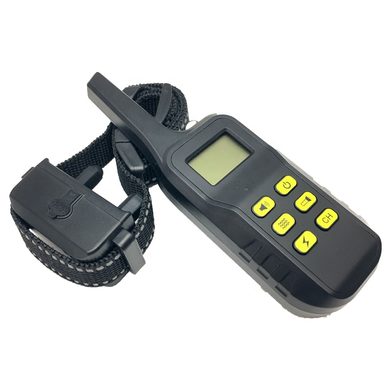 Correction type:

The Patpet T720 training collar offers 3 types of correction - sound, vibration and pulse, that can be adjusted. The intensity levels can be adjustable in 100 levels. The collar has a  LED light function - so you can easily find the dog even after dark.

Barking detection:
The Patpet T720 collar has an anti-barking mode - a combination of a training collar and an anti-barking collar. With anti-bark mode, you can simply avoid unwanted barking of your dog. You can activate and deactivate this function according to your need.

Range:

 With the Patpet T720 collar, you can train your dog at a distance up to 1000 meters. The range of action is suitable for both basic and professional training of most dogs. Patpet is an ideal choice for use in the city, as well as in the forest, where conditions are worse and the range can be reduced.

Battery and charging:

The transmitter and receiver have a rechargeable Li-ion battery with a capacity of up to 650mAh. Additionally, the device is equipped with QuickCharge technology, thanks to which the device is charged in just 2 hours.

Number of dogs:

By purchasing an additional collars with a receiver, you can train up to 3 dogs at the same time. You can simply switch between dogs using the button on the transmitter. 

Display:
Thank to high-quality backlit LCD display, the device is suitable for training at night. The indicators on display shows the selected function, correction power, battery status and the selected dog. 

Waterproof:
The Patpet T720 dog collar is waterproof with just IPX6 protection marking. The device can be used during rain or snow, but it is not possible to stay in the water for a long time. Thus, the collar is an ideal choice for basic use, but not for training dogs in water.

Collar length:

Adjustable plastic collar is comfortable for your dog, and suitable for almost all types of dogs of different size and breed. Comfortable for neck circumference 24-69 cm.

Weight and dimensions:

Transmitter: width-4.5 cm; height-14,5 cm; depth-2 cm, weight-72 grams. Receiver: width-3.5 cm; height-5.5 cm; depth-2 cm, weight-86 grams.