The Patpet T502 is a waterproof training collar with an 800m range for all dog breeds from 8 to 90kg. The Patpet collar have sound functions in 3 levels, vibration and pulse in 99 levels of intensity. The collar is equipped with a light functions that offers 3 different blink modes for comfortable nighttime dog locating (purple, blue-red and green). If you purchase the extra receiver, you can train up to 3 dogs at the same time. Each function on the remote has a separate button, and a flashlight on top of the transmitter that will make nighttime walking easier. After a 2-hour charge, the Patpet T502 collar will last up to 14 days. The main advantage is the rubber caps that fit over the electrodes, which makes the collar very gentle and suitable for breeds such as hairless dogs or dogs that are sensitive and prone to rashes.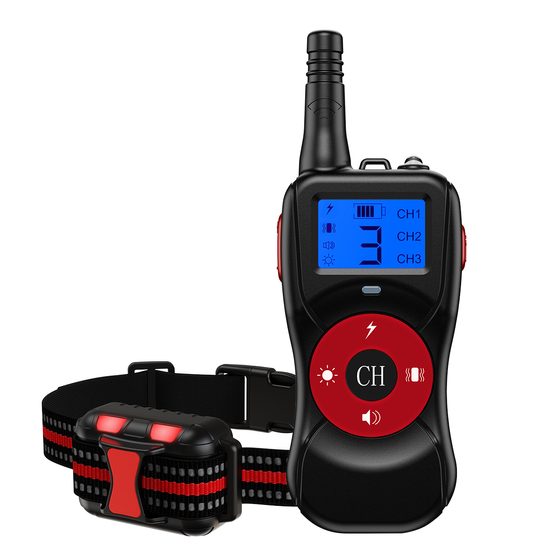 Type of correction:
Patpet T502 training collar offers 4 types of correction. The device can be set in 99 levels of pulse intensity, 3 levels of sound and vibration. The collar is equipped with an illumination feature that provides 3 different blink modes (purple, blue-red and green) for comfortable nighttime dog retrieval.

Collar range:
With the Patpet T502 training collar, you can train your dog up to 800 meters away. A range of 800 meters is sufficient for both basic and professional training of most dogs. The training collar can be used both in the city and in the woods.

Batteries and Charging:
The transmitter and receiver are equipped with a rechargeable battery. The recharging rate is 2 hours until fully recharged. The unit will then remain in standby mode for 14 days.

Number of dogs:
Electronic training collar Patpet T502 is suitable for training 1 dog.

Display:
The Patpet T502 has a high-quality backlit LCD display, that makes it suitable for training in the dark. The display shows correction strength, battery charge status and an indicator of the selected dog.

Water resistance:
The Patpet T502 training collar has an IPX5 rating. It can only be used in light rain, no possible to stay in the water or dive for long periods of time. Patpet T502 is the perfect choice for basic use, but the device is completely unsuitable for training dogs in water. The remote control has the most basic water protection with an IPX1 rating.

Collar length:
The adjustable nylon collar is comfortable for your dog and suitable for almost all dog breeds. Size is adjustable from 20-65 cm.

Weight and dimensions:
Receiver dimensions: width 4 cm; height 6 cm; depth 5 cm, weight 43 grams. The remote dimensions: height 14 cm; width 4 cm; depth 5 cm, weight 59 grams.