Advice: How to choose an anti-parasitic collar?
Choosing the right tick collar is an important step in protecting your dog from these parasites. Ticks are parasites that can transmit dangerous diseases such as Lyme disease or encephalitis, so it is important to protect your dog from their bites. In this article, we will take a look at some important factors you should consider when choosing a tick collar for your pet.
Type of collar
There are several types of tick collars to choose from. The most common types are chemical-based collars, repellents, and collars with natural ingredients. Each type has its advantages and disadvantages, so it is important to consider your pet's individual needs and preferences. Our range includes collars from Menforsan, Scalibor and Foresto
Collar size and type of animal
The size and type of animal are crucial to choosing the right collar. There are collars designed specifically for small or large dogs, cats and other animals. It is not advisable to use a collar designed for a different type of animal. The collar should not be too loose or too tight so that it is not uncomfortable or harmful to their neck.
Effectiveness
Check that the collar provides effective protection against ticks. Foresto collar contains substances that kill ticks and fleas and provides protection for up to 8 months. Scalibor collar contains deltamethrin, which is effective against ticks for up to 6 months. And Menforsan contains an extract of margosa. It is non-toxic and provides active protection for 3 months.  Keep in mind that no collar is 100% effective and it is still important to perform regular body checks on your dog for ticks.
Safety and allergies
Read the ingredients and safety information carefully before purchasing a collar. Some animals may be allergic to certain chemicals in the collar. If your pet has any allergies or sensitive skin, consult your veterinarian.
Both Foresto and Scalibor are made of materials that are safe for dogs. Nevertheless, it is important to follow the manufacturer's instructions and not to use the collar on puppies younger than 7 weeks. Menforsan, on the other hand, is a natural non-toxic collar and can therefore be safely used on puppies from the first month of life, kittens from the first month, pregnant bitches and cats, and who are allergic to common insecticides.
Choosing the right tick collar is an important step in protecting your dog's health. Consider the above factors and consult a veterinarian if you are unsure which collar is best for your pet. With the right collar, you and your pet can enjoy outdoor activities together more safely.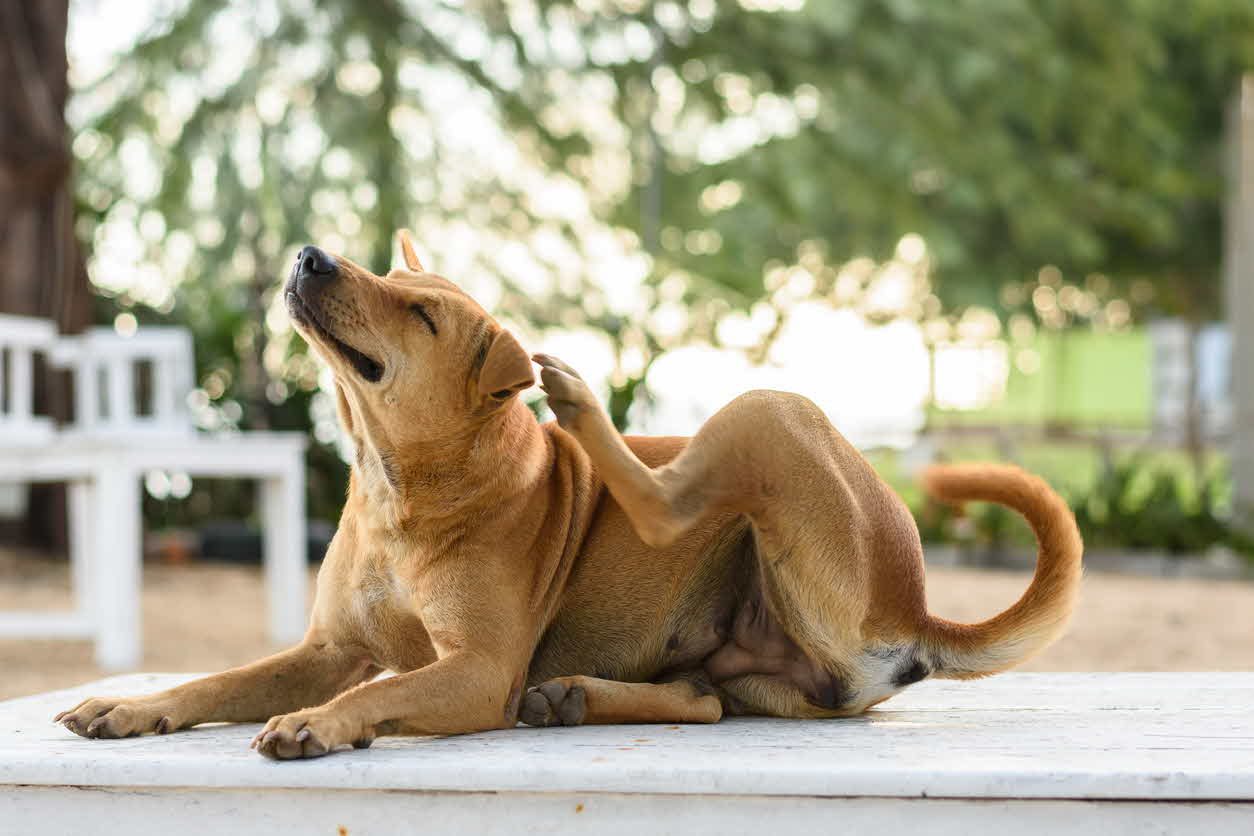 Foresto anti-tick collar for dogs and cats
The Foresto anti-tick collar is not just an ordinary collar against fleas and ticks. It contains a newly developed blend of materials that allows the safe and, above all, controlled release of low doses of active substances that repel these small creatures, for up to 8 months.
Not only does the Foresto collar kill fleas and ticks, it also repels ticks before they can attach themselves. Thus, this anti-parasite collar can protect him from diseases that these parasites can spread.
Scalibor antiparasitic collar for dogs
It is an anti-parasitic collar against ticks, mosquitoes and hookworms. For dogs only! Since the full effect of the collar occurs only after one week, the collar should be put on one week before exposing the pet to a possible infestation. 
Menforsan Antiparasitic Collar for Dogs and Cats
Menforsan natural antiparasitic collar contains an extract of margosa, thus providing active protection against various types of insects, especially fleas, ticks, mosquitoes and everything.