The Canicom 250 LE electronic training collar is a reliable and easy to use training collar with a range of 250 metres. The advantages of the electronic training collars of the CANICOM series are the very small, lightweight and compact controller without external antenna, which can easily fit into a small pocket or be stored in the hand, as well as the ergonomic design. The controller allows to send sound and impulse corrections that can be used for training in different ways as needed. The electrostatic pulse can be adjusted easily in 5 levels, there is a button on the controller for each level of correction separately, the sound is non-adjustable. The collar is suitable for all breeds of dogs from 15 kg, the package contains short and long contact points that can be used for short and long-haired dogs. The training collar is waterproof with short immersion and comes with a hard plastic collar that does not easily break. The transmitter and receiver are battery operated and will last up to 6 months in use.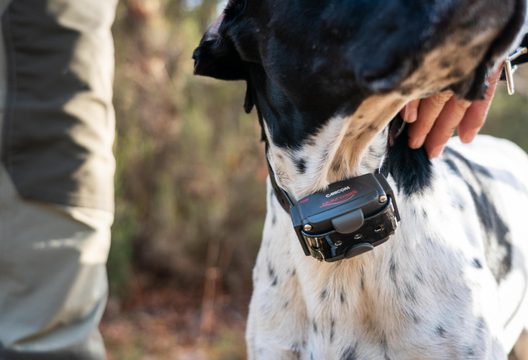 Range of the collar
The Num Axes Canicom 250 LE helps you train your dog without a leash up to 200 metres away. The range is sufficient for both basic and professional training of most dogs, it is the ideal choice for use in the city as well as in the woods where conditions are poorer and range may be reduced.

Type of correction 
Canicom 250 LE has the possibility to use as correction an sound warning and an electrostatic pulse, which can be set in 5 levels. The strength of the pulse can be selected at any time on the transmitter, there is a button for each strength of correction separately, so you can set the collar to your dog's needs.

Batteries and charging
The Canicom 250 LE transmitter is powered by a 3V battery, type CR2450, and will last up to 3 months in operation. The receiver can last up to 6 months in operation and is equipped with a 3V battery, type CR2. The status is indicated by an LED on the receiver and transmitter.
Waterproofing

Canicom 250 LE comes with a waterproof receiver for short immersion with IPX7 rating. It is an ideal choice for basic use as well as for training dogs in poor conditions or rain.
Number of dogs

Canicom 250 LE can only be used for training 1 dog.
Display

Display Canicom 250 LE does not have a display.
Collar length

The Canicom 250 LE has a very strong and high quality collar made of plastic. It doesn't give your dog any problem to wear it and it holds well on his neck. The length of the collar is adjustable from 20 to 50 cm.

Weight and dimensions

The transmitter is 4 cm wide, 9 cm high, 1.8 cm deep and weighs 40 grams. The receiver is 6.8 cm wide, 3.8 cm high, 4.3 cm deep and weighs 75 grams.