Num Axes Canicom 5.500 is a modern electronic training collar of the new CANICOM 5 series with a range of up to 500 meters. Suitable for small, medium and large dog breeds. It features sound, vibration, pulse in 15 stages for adjusting the strength and Booster, which allows you to instantly increase the strength of the pulse without readjusting. This training aid is especially suitable for very temperamental dogs or hunting breeds up to 90 kg that cannot resist running after game and do not respond to conventional commands. The level for the Booster can be pre-programmed to a suitable size, higher than that normally used in training. This "standby" button can then be used in an emergency situation where, for example, the dog needs to be stopped quickly and forcefully and the level normally used would be insufficient. For more demanding training distance requirements, you can use a model from the same series with a longer range: the Canicom 5.800 (800 m range), the Canicom 5.1500 (1500 m range). In case you expect to use it for two dogs in the future, it is sufficient to buy one receiver, because with the Canicom 5.500 model you can use one radio to control up to 2 receivers on the dogs' necks at the same time (2 receivers included). The remote control - the transmitter has an ergonomic shape and makes handling very comfortable. The large buttons are complemented by a clear backlit display, so you have continuous control over your training.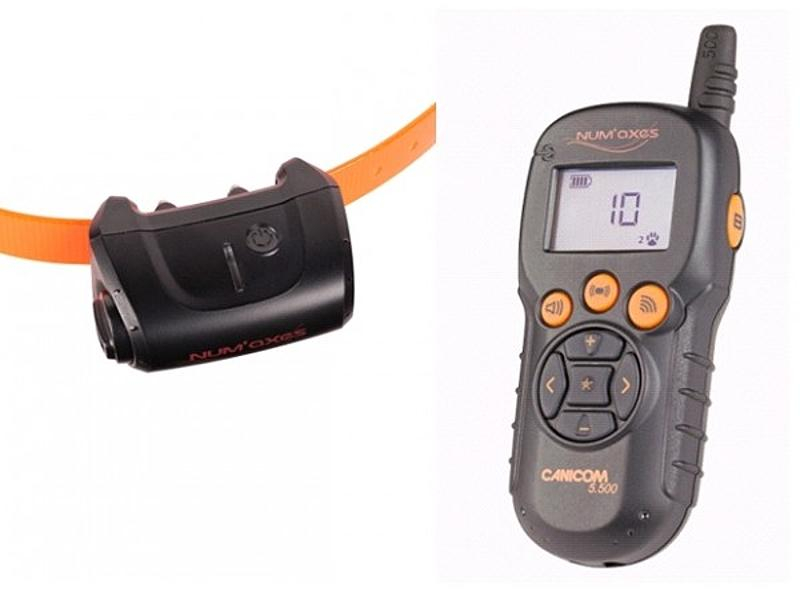 Range of the collar
The Num Axes Canicom 5.500 helps you train your dog without a leash up to 500 metres away. The range of 500 meters is sufficient for both basic and professional training of most dogs. The Num Axes Canicom 5.500 is the ideal choice for use both in the city and in the woods where conditions are worse and range may be reduced.

Type of correction 
Num Axes Canicom 5.500 has the possibility to use sound warning, vibration and electrostatic pulse as correction, which can be set in 15 levels. You can easily adjust the collar to suit your dog. You can increase or decrease the strength of the pulse at any time using the button on the transmitter.

Batteries and charging
The transmitter is powered by a 3V battery, type CR2450, whose status is shown on the LCD display. The receiver is also powered by a 3V battery, type CR2, whose status is shown by the LED indicator on the receiver.
Waterproofing

The Num Axes Canicom 5.500 comes with a fully waterproof and submersible receiver with IPX7 rating. The transmitter is not bothered by normal rain, snow or mud, but must not be submerged in water.  This makes it an ideal choice for basic use as well as for training dogs that like water.
Number of dogs

Canicom 5.500 can be used for training 2 dogs (2 receivers included). You can then select which dog you want to train on the transmitter.
Display

The Num Axes Canicom 5.500 has a high quality backlit LCD display that allows you to train your dog both day and night. On the display you have all the indicators - correction type, pulse intensity and battery charge/discharge indication.

Collar length

Num Axes Canicom 5.500 has a very strong and high quality collar made of plastic. It is easy to wear and holds well on the dog's neck. The length of the collar is adjustable from 20 to 60 cm.

Weight and dimensions

The transmitter is 5.1 cm wide, 12.5 cm high, 2.4 cm deep and weighs 77 grams. The receiver is 5 cm wide, 7 cm high, 3.2 cm deep and weighs 85 grams.