1) Unpacked
The device is only unpacked, or the packaging has been damaged and has therefore been repackaged in non-original packaging. The item has never been used.
2) Used*
The item has been used as a demonstration, in a store, or has been exchanged by the customer within a few days. May not have original packaging, at most a few light scuffs.
3) Lightly used*
The device has been used for 5 - 15 days, there are already visible claw scratches.
4) Heavily used*
The device has been used for 15 to 40 days, there are very noticeable scratches or teeth marks. It can be serviced, refurbished.
* We only sell 100% working items that can be used just like new. For example, waterproofness and other features are always preserved. The warranty period for category 1 and 2 is the same as for new goods, for category 3 and 4 the warranty period is 12 months. The goods can be exchanged or returned within 30 days. Always include complete accessories unless otherwise stated.
You can lock or unlock the battery door at any time, even remotely! The door features accurate animal recognition technology with memory for 32 different IDs. Take advantage of other features like time lock, notifications of walks or pet activity, or share your four-legged friend's profile with friends. There are 4 lock variations available with settings for each individual pet. Thanks to progressive microchip scanning technology, no strange animal will ever set foot in your home again! The microchip reader can be deactivated for normal mode.
Main functions:
Microchip sensing technology accurately distinguishes between individual pets
It reads all commonly used microchip codes - 9, 10 and 15 digit codes most commonly used within the EU. Each pet microchip is associated with owner and address information in the TASS registry to identify lost or stolen pets and medical information.
Connect to a smart app - Connect the HUB device to your home network. The HUB then communicates between the door and your app via the internet to ensure smooth data transfer. What's more? The cheerful glowing tabs flash to indicate that you've received a notification.
4 locking options: free entry, blocked exit - the pet goes in through the door, after which it remains blocked; free exit, blocked entrance - the pet is free to go out, but the entrance remains locked; time lock - you set the time for locking/unlocking the door in advance; full locking of the door for entry and exit
Remote Lock - Tap a single icon to instantly lock the door wherever you are.
Time lock - Set the locking schedule in advance and you don't have to worry about a thing!
Ability to store 32 different IDs - Storing a multitude of different IDs in memory is a customized feature for multi-pet owners. Alternatively, it will also make the home available to your guests' pets when they visit.
High quality backlit display - All your setup information is available on the door's high quality backlit display
Manual settings: you can switch the settings from automatic to manual and deactivate the microchip reader at will. The door then operates as normal.
Replaceable batteries - Sure Flap operates on 4 AA batteries, which will ensure the operation of functions for up to 6 months. The battery level is indicated by an LED icon.
Door dimensions - Outer frame (w 21 x h 21 cm), through hole (w 14.2 , x 12 cm), tunnel depth 7 cm  
Only your pet will fit!
Prevents intruder animals entering your home.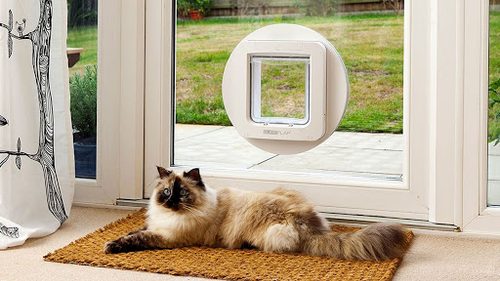 Reads all commonly used microchip codes
Within the EU, 9, 10 and 15 digit codes are most commonly used for chipping. Microchips can be scanned with a reader and the code can be used to identify lost or stolen pets in a central database. The integrated microchip reader in your Pet Door Connect works in the same way, reading all of the above types of codes. It is a very accurate and reliable technology. Is your pet not or cannot be chipped? Use the microchip tag and simply clip it to your furry friend's collar. Everything will be as it should be! Simply check your pet's microchip compatibility here at the bottom of the page.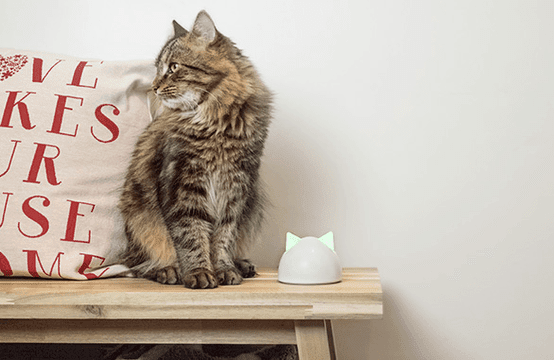 Only you have the key to the door... remotely!
Pair the door with a smart app using the Hub device and you have a remote lock at your disposal. Just choose whether to set the lock mode in advance or do you need to lock now? Tap a single icon to instantly lock the door wherever you are. With the Sure Pet Care app, every option is a breeze. Quickly and from anywhere!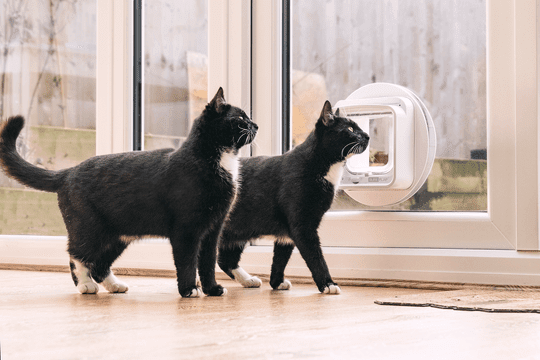 A lock that lets you do more!
Use the mode that suits your situation! A great app for your phone turns your pet door into a smart remote lock with settings. Select the lock mode in advance and you don't have to worry about anything! Choose: 1) Free entry, blocked exit - the pet goes in through the door and the door is locked after that; 2) Free exit, blocked entrance - the pet is free to go out and the entrance is locked after that; 3) Time lock - you set the exact time for locking/unlocking the door with any lock; 4) Should everything stay as it is? Tap to lock the door for both entry and exit.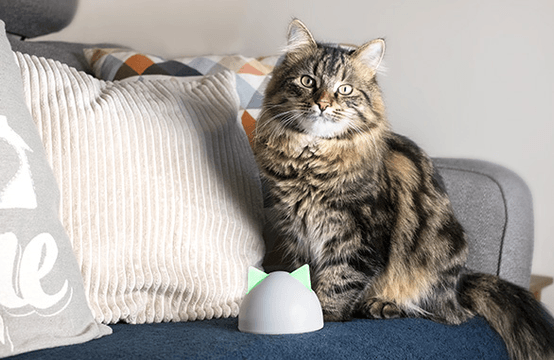 Use the app to get useful information and keep in touch with your pet...
Wondering what your stray is doing and how many walks it goes on? Notifications will alert your phone whenever your pet uses the door. You know your pet best. However, as few people stay with their pet all day, notifications of any behavioural changes will definitely make it easier to care for them. The onset of illness is especially subtle, and early treatment can make all the difference. That's why both monitoring for changes and activity sensing are invaluable. In addition, if you are travelling, the connection to your four-legged partner from anywhere is sure to please. In addition, you can create a profile for him and share various information with friends or groups.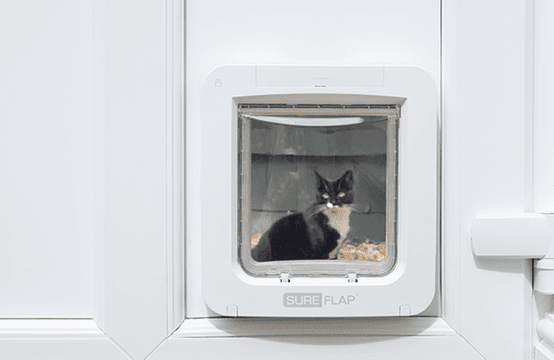 4, 8, 12... or 128 paws crossing your threshold?
128 paws or 32 pets. Protection against unwanted intruders: the pet door recognises your pet and allows it to enter and exit, register up to 32 pets. Microchip: works with all common microchip numbers numbers (9, 10 and 15 digits).RFID-tag: included in the set.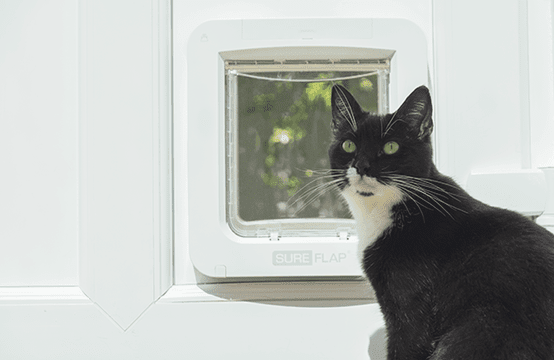 The device has a lighted display with control of settings!
With charge status display and info in the app when the battery is low.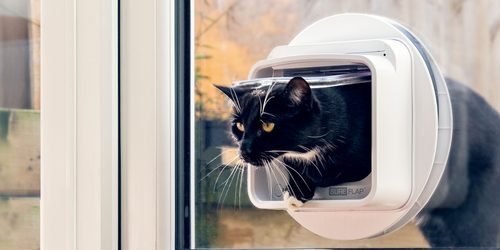 Everything under your hand with manual adjustment
Switch to manual mode at any time and the reader is deactivated. The door then operates as normal, without microchip scanning.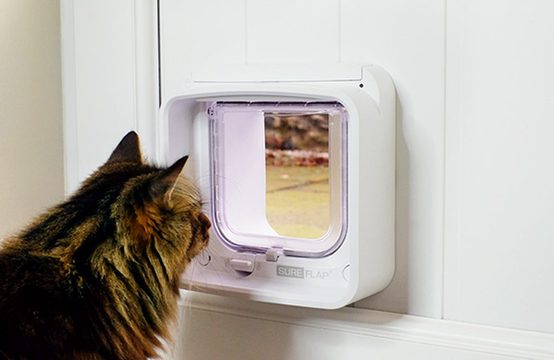 Do you still need to know how the pet gets used to the door and it is decided?
Training will be fun and won't take too much time. Just focus on the natural curiosity and also the sweet tooth of your four-legged friends. Put the door in the space and call the pet. Place a few treats in the passageway and praise, praise and praise the animal for every progress! Well done! As it passes back and forth, the joy will be doubled. The same process can be repeated after installing the door so your furry friend knows which way the path leads.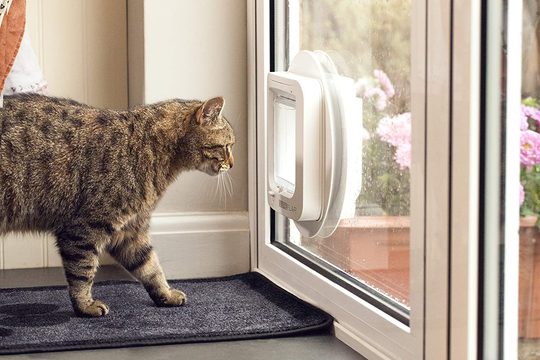 Why is it great to own a HUB?
Not only does the device allow you to seamlessly transfer data for your app, but you can also add up to 10 other smart items, toys and other conveniences and easily control them on your phone. Glowing tabs indicate notifications. Connect to your app wherever you are with a functional HUB.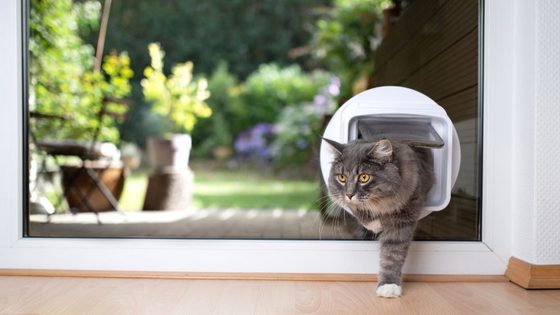 A few installation tips

The door is compatible for installation with all commonly used materials. They are therefore suitable for installation in walls, wood and, with the installation extension, also in glass. A tunnel can also be used for installation, which adjusts the passage by an additional 5 cm. The tunnels can be connected to each other, so that even special passage dimensions are not a problem. With the Sure Flap, your four-legged companion will be safe and the microchip will provide him with a reliable key to your home!
Door installation
Installation into glass