Canicalm Smart is the anti-barking collar for small and large dogs that can be controlled by using free mobile app. On your mobile app, you should choose one of four possible barking correction mode, also you need to choose the time  interval of the collar functionality. The collar offers 4 different modes ( only sound, sound + low impulse, sound + strong impulse and sound + increase impulse) that can be easily adapted to the nature and sensitivity of the dog. The Canicalm Smart collar withstand even heavy rain. The first time the dog barks, the collar gives an audible warning. If the dog barks again in the next 30 seconds, the collar will give an audible warning and impulse (according to the set mode). If the dog stops barking for at least 30 seconds, the collar will start working at the next barking again from the beginning (starting only with a sound warning). Once the dog understands the connection between barking and correction, it will only respond to the first level of correction - an sound warning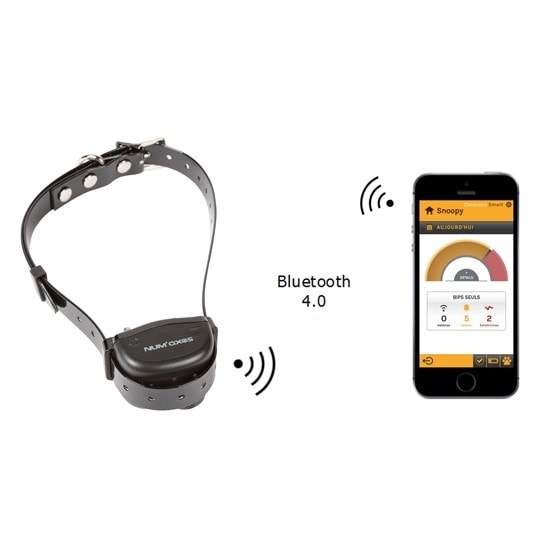 Barking detection

 You can customize the dog anti-barking collar only in the operating range of Bluetooth using the mobile app. Canicalm Smart is triggered by the vibration of the vocal cords while the dog barks. The device responds only to the dog's barking, which has recognized by the receiver on the dog's neck (no reaction to the barking of a foreign dogs)

Correction type
1. sound only
2. sound + low impulse (for sensitive dogs)
3. sound + strong impulse (for temperamental dogs)
4. sound +  increase impulse

Collar settings

With the Canicom Smart collar, you can set up 4 different correction modes and adjust the sensitivity to the dog's barking.

Battery and charging

The Canicalm Smart collar uses a replaceable  lithium 3V battery with the CR2 mark for power. The endurance of the collar is from 1 to 6 months. First of all, it depends on the quality of the batteries used.
Waterproof  

The Canicalm collar can withstand rain, snow or mud. However, the dog should not swim with it and dive into the water
Breed 

Thanks to the small receiver and the ability to configure 4 correction modes, we recommend Canicalm for small, medium and large dog breeds. This is an ideal choice for all dogs weighing from 5 to 90 kg.

Collar length

Canicalm has a very strong and high-quality plastic collar. The collar keeps well on the dog's neck.  The length of the collar is adjustable from 17 to 55 cm.

Weight and dimensions

Canicalm has a medium-sized collar - width 6 cm, height 3.5 cm, depth 3.7 cm, with a weight is 68 grams even with a battery.
App:
The Canicalm Smart app can be downloaded for free, for IOS and Android smartphones and tablets.